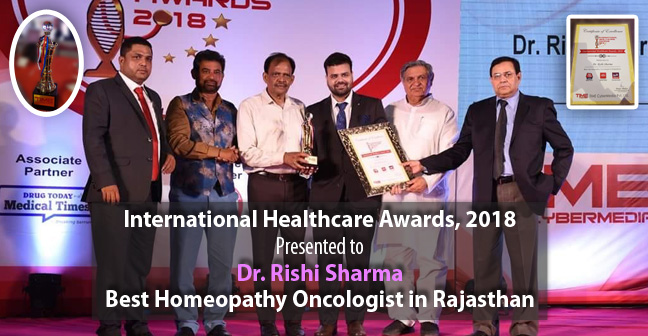 Recently Time Cyber Media Pvt. Ltd organized the International Healthcare Awards 2018 with an aim and motive to awards the bests of Healthcare Industry. This award function was held to felicitate the personalities and organizations for their continued and tremendous contribution to the Health Industry. At this prestigious event, Dr. Rishi Sharma, CEO and Founder of Candrol Cancer Treatment and Research Center and the well-known oncologist of Jaipur, awarded as the "Best Homeopathy Oncologist in Rajasthan".
Dr. Rishi Sharma, along with his team has been dedicated working to bring out new methods so that they can treat cancer more efficiently. For this, Dr. Rishi Sharma invented a protocol known as "Candrol Protocol". Candrol is a non-conventional method of cancer treatment which can easily be combined with other conventional and non-conventional methods for better results.
For such an essential contribution to the field of Oncology, International Healthcare awards 2018 honored and recognized Dr. Rishi Sharma as one of the pillars of the healthcare industry. Comprehensive selection determined the Healthcare Award winner. The winners were decided on the basis of ratings which was conducted around the country by the organizing team.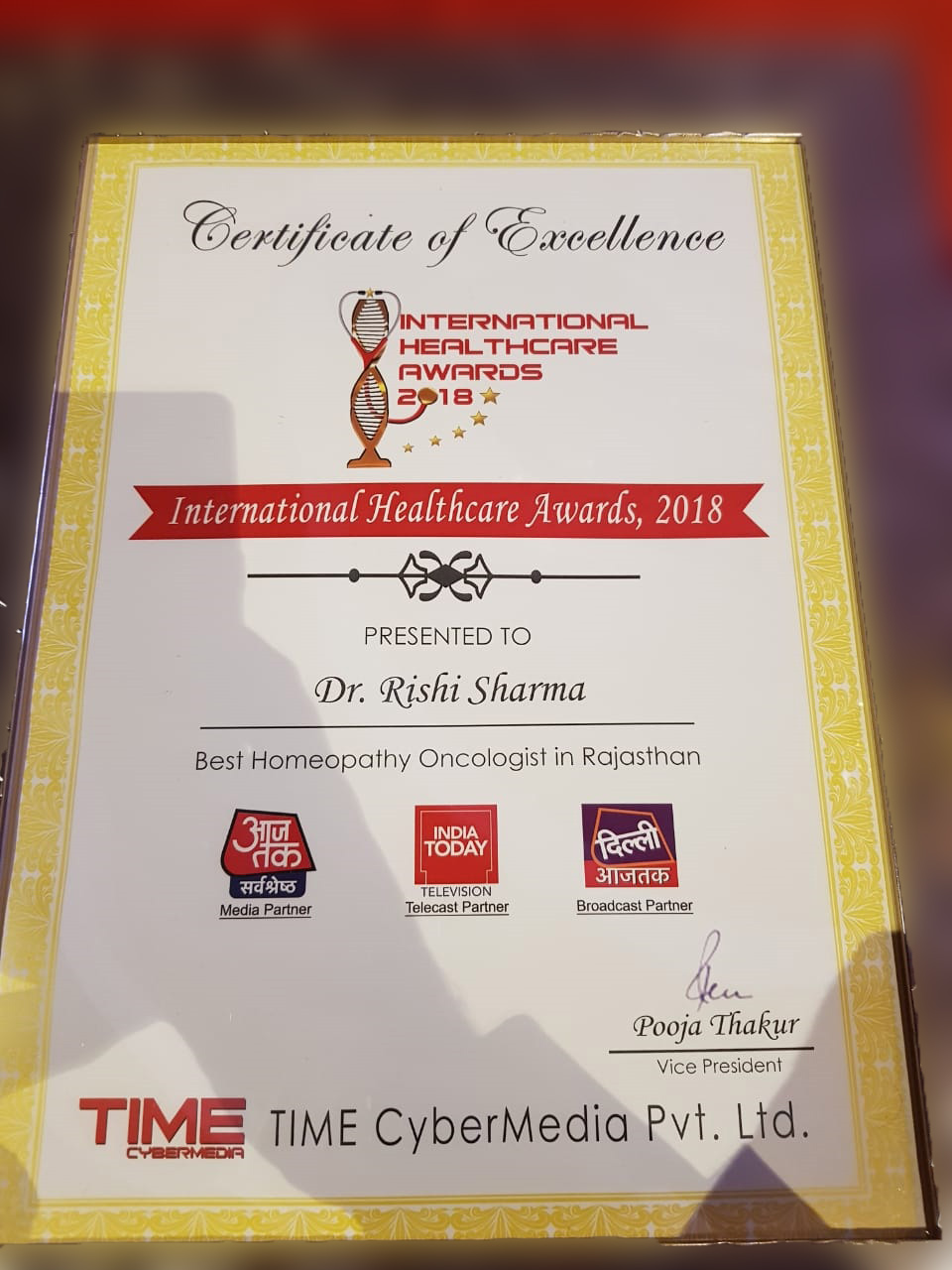 International Healthcare Awards brought all the elites and leaders of the Healthcare industry to the same stage. This function was graced by the presence of Padmshree Dr. J. K. Singh – the renowned oncologist, Dr. Yoganand Shashtri – Former Speaker of Delhi Legislative Assembly, Shri Chetan Sharma – Former Indian Cricketer and member of DDCA, Rt. IAS Officer Shri Basant Kumar and many other doctors, surgeons, insurance providers, govt. representatives, pharmaceutical companies, health care providers, hospitals, clinics, consultants and financial institutions.
It is a great achievement for Dr. Rishi Sharma and Candrol as it is not an easy thing to get awarded as the Best Homeopathy Oncologist in Rajasthan. This was the day which can't be forgotten. On this auspicious occasion, Dr. Rishi Sharma said," I am feeling fantastic after receiving the award, and it is the collaborative efforts of many people who are associated with Candrol".
After getting honored as the Best Homeopathy Oncologist in Rajasthan, Dr. Rishi Sharma communicated with the Press. When the reporter asked about Dr. Rishi's opinion on Government Policies which are getting introduced in the healthcare sector. Dr. Rishi Sharma replied to this, "Most of the time we agree with the fact that most of the government policies are targeted to provide most of the medical services to the weaker areas and low-income families. As we all know that Oncology and Cancer Treatment is an expensive treatment for most of the part of the country. We do cherish as private clinics like us who are working for the majority of the sectors where our CM Vasundhara Raje is also favoring that much-discounted prices and lowering the budget of cancer treatment so that the people can avail it and Candrol adheres to that and Rajasthan is doing well in that too. So, we are very happy".
Dr. Rishi Sharma also answered to a very important question that how his work can help the society. In this context, Dr. Rishi Sharma said, "This is the most important question. Most of the cancer treatment centers are working on combination therapies to treat cancer whereas we are working on conventional treatments along with other modalities like immunotherapy, Homeopathy, etc. So, the main motto always remains to provide rest in metastasis phenomenon along with reducing the side effects of chemotherapy and radiation therapy. The work is going on, International guidelines have been very clear, and combined modality has been very successful. There is no need to fear from most of the terminal stage of cancer as it can be very nicely manageable and excellent quality of life can be given to the patients. So, Doctors like us who are working for the people and society are doing a great task. I am happy about that. Thank You".
So, to get the best consultation and for proper guidance, book an appointment with Dr. Rishi Sharma, Now.
Leave a reply